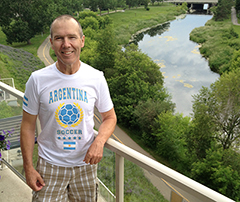 RICHARD WEAR is one of Canada's preeminent wildlife,landscape and fine art photographers. In addition, his images of early to mid 1970's black and white photographs reveals an inherant and powerful sense of composition and unerring ability to handle and manipulate light at the same time. His unique eye interprets and captures emphemeral images of the world in a artistically simplified approach. Richard received his photographic education at the Northern Alberta Institute of Technology, where he graduated with distinction.
Richard has been awarded The Grand Prize by Canadian Geographic for his print "Prairie Storm", a dramatic view of a quiet country road leading straight into menacing skies. His bison panoramic photograph was selected for its outstanding light and powerful perspective captured top honors in the Nature category of Photo Life Magazine's, International Contest. One of his wolf photographs received a special mention in The Banff Mountain Photography Competition. Three of Richard's images made it to the semi-finals in the BBC Wildlife Competition. Richard has received various awards from Kodak as well as numerous professional photographic associations. Richard's images are held in the collections of various corporations, galleries, and individual collectors. His work has appeared in various publications, book covers, magazines and is represented by stock agencies.
"We need to be aware that the pictures we take today are tomorrow's history: challenge yourself to document for the future."